Serving your Area – Anytime, Anyday

Rekey Locks Locksmith Dispatch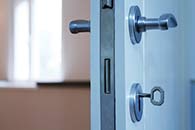 Need to change locks, rekey locks, Replace Locks or install locks? Our service will help locate a locksmith near your location that provides residential and commercial locksmith services. If you are looking for extra security, we will locate a locksmith near your location that can install high security locks or perform a whole Rekeying process to your current locks. These locks will ease your mind from potential break-ins. For businesses, locksmiths can rekey your current lock system to a grand master key system to establish security and organization.
Whether you have recently moved into a new home or simply want to change or rekeying the locks used to access your house, Call Locksmith Connections and we will locate a locksmith near your location that will discuss your individual home or business needs.

Although it is possible to change your door locks yourself, it is best to hire a locksmith to do the task for you. Because the process only requires simple tools, many people attempt it themselves, but if the lock isn't installed correctly, your door may not open or close. You should always hire a locksmith when rekeying, as that process is more complicated and requires special tools that you would not have at hand, and it could cost more than a locksmith's services would.

Average Pricing
| | |
| --- | --- |
| Service Fee - Trip Charge | $29 (Flat) |
| All Lockout Services | $59 - $150 |
| All Rekey Services | $69 - $250 |
| Lock Change | $79 - $350 |
| New Car Keys | $149 - $350 |
| Luxury Car Keys | $299 - $599 |
| Ignition Repairs | $100 - $300 |
| Car Key Programmings | $100 - $200 |
| Safe Lockouts | $75 - $300 |
| Key Extractions | $75 - $150 |
* This is an average price range list. Prices can vary - many factors can affect the price. The final cost will be determined by the service provider after assessing the job.
* The technician will provide the final price on site before starting the job.
Zip Code
Call Us!
24 Hours everyday
Lock Key Services
Car Key
House Lock Out
Car Lock Out
Key Replacement
Unlock Door
Unlock Car
Key Cut
Key Maker
Change Locks
Replace Locks
Locked Keys
Ignition Repair
Serving Rekey Locks Locksmith Dispatch